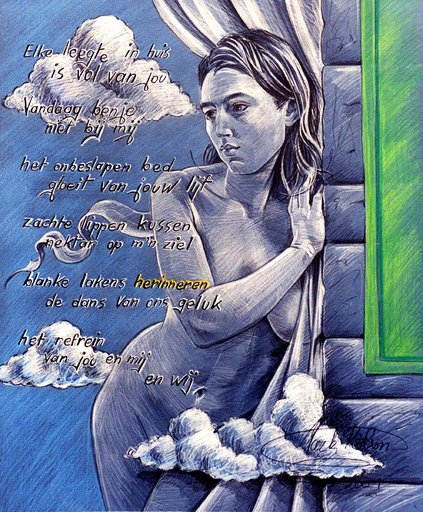 ARTISTIEK PROJEKT
"ELK LICHAAM VERTELT EEN EIGEN VERHAAL"
Ik zoek vrouwelijke kandidates voor een multi-disciplinair artistiek project (tekenen, schilderen, foto's), waarbij het naakte lichaam essentieel is om facetten van hun persoonlijke verhalen, ervaringen rond thema's zoals
identiteit, beperkingen, eenzaamheid, liefde, dromen, depressie, communicatie, geloof, zwangerschap, vrijheid en ontvoogding in eigenzinnige beelden om te zetten.
Aan de hand van de ontmoeting en een persoonlijk gesprek, zoeken we interessante esthetische invalshoeken om via uw lichaam één of verscheidene van deze persoonlijke ervaringen uit te drukken.
Profiel: vrouwen van alle lichaamstypes, alle nationaliteiten, alle leeftijden (vanaf 18 jaar) met een eigen verhaal.
Bij het poseren is authenticiteit heel belangrijk, ervaring in het poseren is hier niet bepalend.
Enkel ernstige kandidates.
Locatie: In mijn atelier, omgeving van Antwerpen, in een discreet en gemoedelijk kader.
Geen vergoeding, wel CD-rom met foto's van de kunstwerk(en) en/of foto's van de sessie.
Geinteresseerd om te poseren voor mijn Artistiek Projekt? - (18+)
Contacteer me met een leuk, interessant of beklijvend tekstje en een recente foto, via CONTACT (links-onderaan), en klik er vervolgens op "reageer", of stuur een mailtje naar markrobson-art@hotmail.com
MY ARTISTIC PROJECT: "EACH BODY TELLS A TALE OF IT'S OWN"
I'm looking for women who don't mind to pose in the nude, for a multi-disciplinary artistic project (drawings, paintings, photo's), where we use the body to make authentic individual images that express aspects of your personal stories, experiences.
For example: identity, limitations, lonelyness, love, dreams, depression, communication, faith, pregnancy, freedom.
During our meeting and personal talk or chat, we search for interesting esthetic approaches to find out how your body can express one or more of your personal experiences.
Profile: Women of all bodytypes, all nationalities, all ages (18+) with a personal story.
With the artistic nudes or artistic nudity, the primary focus is on authenticity. Experience in posing is not essential.
Only serious candidates.
Location: My discrete artistic studio in the Antwerp area.
No financial compensation. Candidates recieve a CD-rom with the art and/or photo's of the session.
Interested in posing for my Art Project? - (18+)
Contact me with a fun, interesting or haunting tale and a recent photo. Go to CONTACT (Left-down), and click on "reageer", or send a mail to markrobson-art@hotmail.com